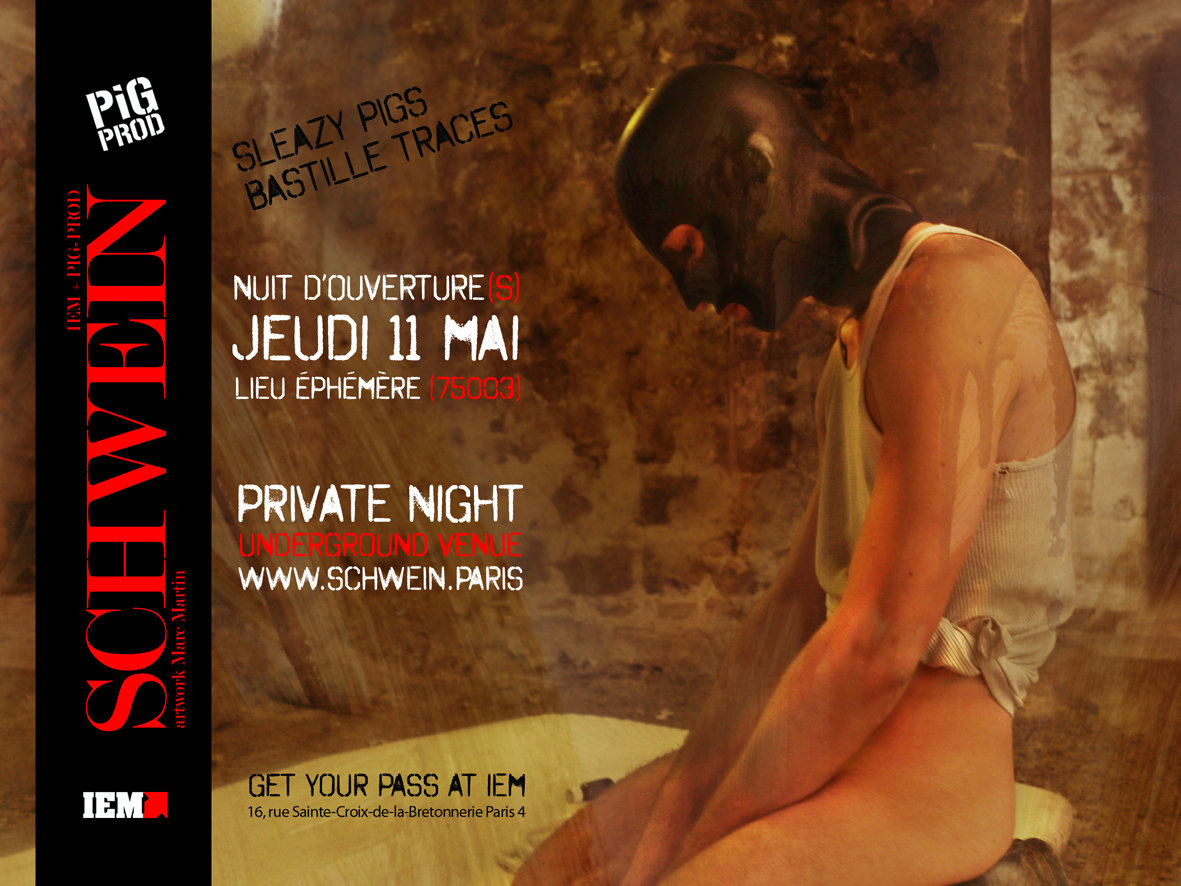 ---
EVENEMENT PIG-PROD + IEM 
SCHWEIN est une plongée dans l'univers de Pig-Prod  et du fantasmatique dessinateur Bastille : une soirée le jeudi 11 mai dans un lieu éphémère au cœur du marais, à l'occasion de la sortie du booklet SCHWEIN, dernier opus du label cochon (prévue le 9 mai, en vente exclusivement chez IEM). L'équipe de Pig-Prod et David de la boutique IEM se sont donc inspirés des célèbres tableaux de l'artiste décadent pour vous inciter à une soirée lubrique.
SLEAZY PIGS ONLY
La capacité d'accueil ne permettant pas d'accueillir tout le monde, la soirée sera donc privée. L'entrée sera strictement limitée de 21h30 à 23h30.
 Les tickets seront en vente exclusivement chez IEM et l'adresse de l'évènement délivrée à partir du 28 avril. 
NB/ Des shootings « Orgies Pig-Prod » y seront improvisés d'ici là. Il y en aura tous les goûts et de toutes les couleurs. Inscrivez-vous sur le site www.schwein.paris pour participer aux FFestivités. Masques et cagoules en tout genre  bienvenus pour les tournages. Cochons coincés, s'abstenir !
———————–
SCHWEIN – an event exclusively for sleazy pigs, organised by Pig-Prod and IEM
SCHWEIN is a deep dive into the world of Pig-Prod and of the phantasmagoria of Bastille (aka Frank Webber, 1929-1990), the French-American artist whose drawings have excited and inspired generations of filthy pigs.
The event will be an art opening, where in addition to presenting the new booklet "Schwein" – the last work of the Pig-Prod publishing imprint, released on 9th May exclusively at the IEM boutique – we hope to "open" a few other dirty orifices as well. We have found an industrial temporary space in the heart of Paris's Marais district, where the Pig-Prod team, together with David from the IEM boutique shop, took inspiration from famous drawings by Bastille to create fun installations in this underground space.
ASS/ART OPENING
As the few images here show, Pig-Prod and IEM have created a décor which we hope will set the tone for the evening…  both in the booklet and on the wall projections, but also later in the night, as we film the filthy exploits that we expect the most motivated among you, our guests, to engage in.  Please visit www.schwein.paris to sign up and learn more.
Tickets for this art opening / ass opening evening, on Thursday 11th May, will be on sale exclusively at IEM, and will be very limited in number.  Since the venue capacity can't allow everyone to attend, the event will have to be private.  The entry slot will be strictly between 21.30 and 23.30.
In order to be at ease throughout the night, please bring masks and balaclavas if you like, and leave home your collection of brand new shiny leather and rubber gear and boots.  The ambience will be piggy and sleazy.  You'll be better off in your rubber boots and your old, used, filthy, smelly, play clothes.  You'll feel most comfortable if you match the image of Pig-Prod and of the icons created by Bastille.  A mix of drawings, videos, pics, and soundscapes will put you in the mood.  Oh, and please don't have a shower before coming – but you might like to have one afterwards, and you might like to stay overnight somewhere near the Marais.
Come to this unique Parisian experience.  A Pig-Prod event arranged by David from IEM.  Visit the IEM boutique right away to get more info!
NB/ Pig-Prod will use this temporary space to produce images.  If you'd like to take part in the shooting and filming sessions we plan to do before and after the main event, please send a message at www.schwein.paris
---
Date/Time
Date(s) - 11 Mai 2017
21:30 - 23:30
Catégories